Navigating the Holy Grail of Marketing Today "Turning Data into Business Marketing Advantage".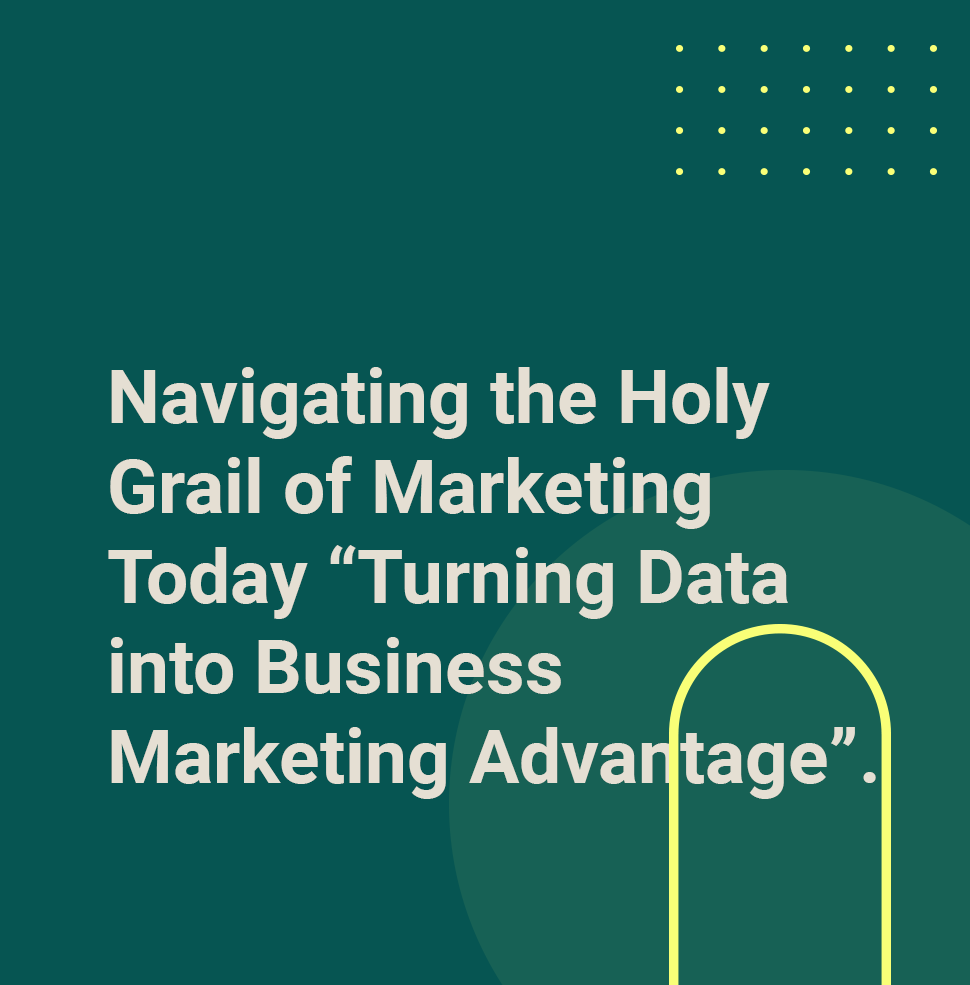 "Business Knowledge – Closing the Divide between Belief and Truth" [1].
We all know as professional Marketers, Digital Strategists, and Social Media Managers that crossing this divide from CRM Data to Knowledge can very often be like finding the Holy Grail.
In the last decade, Artificial Intelligence (AI) has exponentially increased in terms of technology hype within the workplace. However, it has not provided the 360° solution that does not require a high-level human involvement in terms of training, calibration and setup.
Today AI works well to turn data that, through automated processing, can reduce the initial data mining task to produce what we refer to as a "reachable" audience by matching different sourced data. For example, a company-owned with an external data source, perhaps an example from one of the Social Media platforms.
This only represents the first step and does not stop here. To succeed with a new customer growth campaign understanding the potential "engaged" customer is critical.
Figure 1 below illustrates the defacto data science model "DIKW" [2] that highlights the four stages and, therefore "Divides" and acts as a baseline to plan.
Figure 1 – The DIKW Model and stages to Customer Knowledge and Insight
Customer engagement, experience and event digital and non-digital programs often fail to deliver against either business leader expectations or reach the defined marketing KPIs because "Information" is used rather than "Knowledge".
"27% of global consumers told us that messages from brands with irrelevant content top the list in terms of marketing campaigns" [3]
The quote represents an excellent example of focusing only on the understanding audience "Reach" rather than "Engaged" audience. A "Divide" between "Belief" and "Truth" can be equated to the divide between the value of "Reach" and "Engaged".
So how can Marketers, Digital Strategists and Social Media Managers go beyond this "Divide" to the better audience and customer knowledge and ultimately "Wisdom" that will lead to Business Marketing Advantage?
Here is the Fuse Pipeline's three key must do's to cross the "Divide" from customer Data to Knowledge and to what is the Holy Grail of marketing "Wisdom" (the ability to improve customer engagement experience).
No 1. Set a baseline for the marketing campaign's objective, e.g. education, conversion, growth, and branding. This directly drives the starting point of closing the gap in your customer data as it exists today versus where it needs to be achieved from a data enrichment analysis matching data with the global insight data from Fuse Pipeline. This is both a combination of Tech (AI) and Human touch.
No 2. Once a "Reachable" audience is defined, screen this Data against your existing value propositions and your digital assets to provide a fruitful outcome to define an Engaged Audience, led by the Human side of Data Science and Insights
No 3. A stage very focused on Human-led decision making, as illustrated in Figure 2
Figure 2. Turning Data into Knowledge through Design Lead Decision Making.
At this stage, define the content and customer Experience Journey in parallel to ensure a unified approach achieved through one of the Fuse Pipelines, "Virtual Discovery Workshops".
Take a step nearer to navigating the Holy Grail of Marketing today and turning Data into Business Marketing Advantage.
Definition by Article Author J. A Kelly (2022)
J. Rowley (2007) "The wisdom hierarchy: representation of the DIKW hierarchy," Journal of Information Science
Forbes Article. Five Marketing Mistakes that can sabotage Customer Engagement (2021). Online article Five Marketing Mistakes That Can Sabotage Customer Engagement (forbes.com)
L.P Favero, P Belfiore (2019). Data Science for Business and Decision Making. Elsevier. Data Science for Business and Decision Making – Luiz Paulo Favero, Patricia Belfiore – Google Books
Posted on Thursday, July 14th, 2022.